An Initiative to Recognize Fearless Voices
Recognizing champions of constitutional values.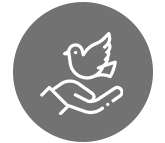 Highlighting defenders
of civil rights.
Acknowledging advocates for freedom of expression.
"Fearlessness is the first requisite of spirituality. Cowards can never be moral."
Mahatma Gandhi
Honoring the Independent Voices
Individuals/organizations who raise their voices with confidence and boldness are being awarded the 'Freedom Award' trophy, organized in the humble memory of renowned photojournalist Danish Siddiqui. The award also comes with a tribute sum of Rs. 1 lakh for each recipient.
The  Danish Siddiqui Freedom Award
The Danish Siddiqui Freedom Award presented by 'Kisan Trust' pays tribute to the indomitable spirit of Danish Siddiqui, a luminary in the realm of photojournalism. Our mission is to honor and celebrate Danish Siddiqui's legacy by acknowledging individuals who exemplify their unwavering commitment to upholding constitutional values, championing civil rights, and safeguarding the precious freedom of expression. The Danish Siddiqui Freedom Awards stand as a testament to Danish Siddiqui's extraordinary dedication to capturing the truth through his lens, his relentless pursuit of justice, and his steadfast belief in the power of visual storytelling. 
DSFA serves as a beacon of inspiration, showcasing the remarkable journeys of individuals who have fearlessly stood up for societal dignity, equality and the principles that lie at the heart of a democratic society. We believe in celebrating courage, resilience, and the unyielding commitment to making positive change, even in the face of adversity.
Join us in this meaningful endeavour as we honor Danish Siddiqui's legacy by recognizing and applauding individuals who carry forward his mission. Let us come together to celebrate their achievements, amplify their voices, and stand united in our commitment to preserving the principles that shape our world.
Selection Committee
Our honourable members of the DSF Award Selection Committee
Yogendra Yadav
Social Activist
Irfan Habib
Author and Historian
Praveen Jain
Senior Photojournalist
DSF Award  2022 – The Maiden Event
In 2022, this honor was given to retired Vice Chancellor of Lucknow University and dedicated social worker Professor Roop Rekha Verma, a well-known journalist Ajit Anjum and Pulitzer Prize awardee, photo journalist Adnan Abidi from Reuters for the sake of protecting our constitutional values.
Roop Rekha Verma
Roop Rekha Verma has served as the Vice-chancellor, Professor & Dean in Lucknow University....
Ajit Anjum
Ajit Anjum is a well-known, fair and truthful journalist of India. Ajit Anjum was awarded the most prestigious Ramnath Goenka Award...
Adnan Abidi
Adnan Abidi is a two-time Pulitzer Prize winning photojournalist with a career spanning over two decades of covering breaking...
Eligibility for the DSF Award 2023
Entries being submitted for the DSF Award 2023 under Media & Photojournalism should have been published between 16th August 2022 and 15th August 2023.
Frequently asked questions
1
Who is eligible to be nominated for the Danish Siddiqui Freedom Awards?
The awards honor individuals/organizations who demonstrate an unwavering commitment to upholding constitutional values, championing civil rights, and preserving freedom of expression. Nominees should embody the spirit of Danish Siddiqui's legacy.
2
What are the different categories for the DSF Award?
The DSF Award encompasses three distinct categories:
Social Activism: This category recognizes individuals who have made significant contributions to social justice, equality, and human rights through their dedicated activism and initiatives.
Journalism: In this category, journalists who exhibit fearlessness in investigative reporting, exposing corruption, and upholding accountability, ethics, and informed discourse are honoured.
Photojournalism: The Photojournalism category acknowledges individuals, especially photojournalists, who demonstrate exceptional courage and storytelling prowess by capturing compelling images that shed light on critical global issues.
Each category celebrates individuals who have exhibited remarkable dedication and impact within their respective fields.
3
Are self-nominations allowed for the Danish Siddiqui Freedom Award?
Self-nominations are allowed.
4
How are the awardees selected from the nominated candidates?
The selection process typically involves a selection committee who review the nominations and assess them based on the established criteria. Awardees are then chosen based on their alignment with the award's mission.
Reach out to us at:  kisantrust79@gmail.com